Package Contents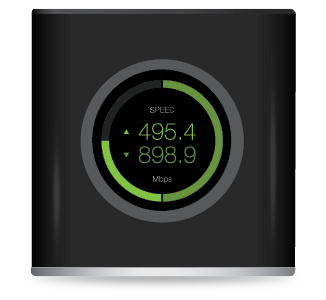 AmpliFi Router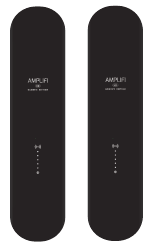 AmpliFi MeshPoints (Qty. 2)

Power Adapter

Ethernet Cable
Hardware Overview
Router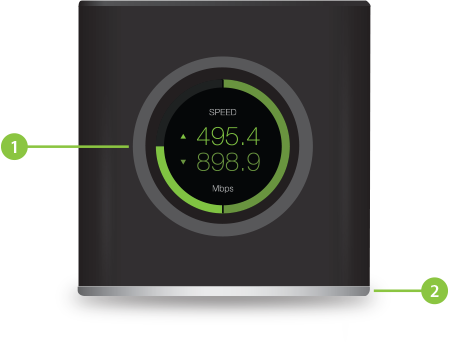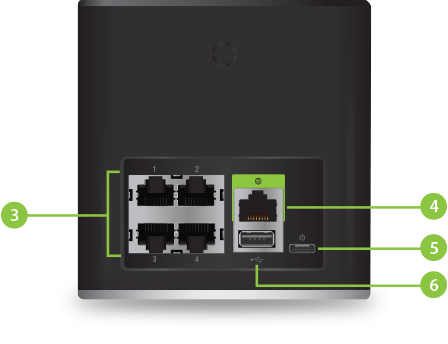 Touchscreen Display
The front of the AmpliFi Router features an adjustable, full-color touchscreen display.

Adjustable LED
The bottom of the AmpliFi Router features an adjustable LED that is fully lit by default when the Router is configured and ready for use.
| | |
| --- | --- |
| | The brightness settings of the touchscreen and LED are configurable using the AmpliFi app. |

Ethernet Ports
Four Gigabit Ethernet ports available to connect 10/100/1000 Mbps wired network devices to the internet.

WAN Port
Connects to the broadband modem provided by your ISP (Internet Service Provider).

Power Port
The Power Adapter connects to this port.

USB Port
Reserved for future use.
MeshPoint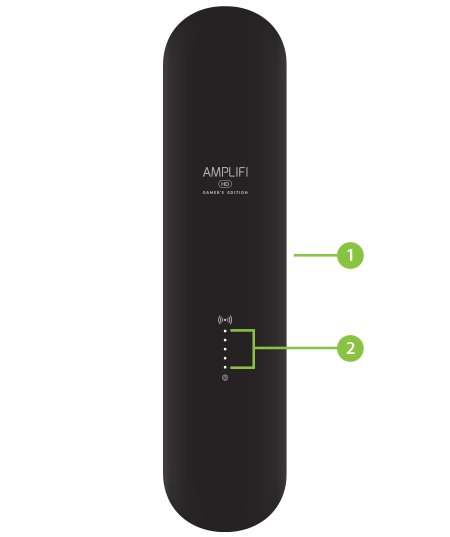 Adjustable Antenna
The MeshPoint antenna can be adjusted to provide optimal signal coverage for your location.

Signal LEDs
The Signal LEDs will reflect signal strength once the MeshPoint is connected to the Router.
Installation
The AmpliFi Router can be installed using one of the following methods:
App Users AmpliFi app for iPhone or Android

™

Non-App Users Connect to default AmpliFi wireless network (SSID) from a computer or tablet.
App Users
Follow the on-screen instructions to configure your AmpliFi Router.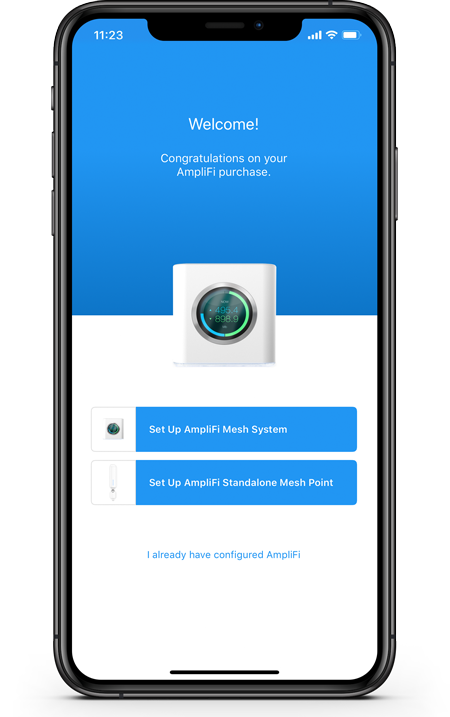 Non-App Users
Connect to the new wireless network that you've created.
Installing the MeshPoints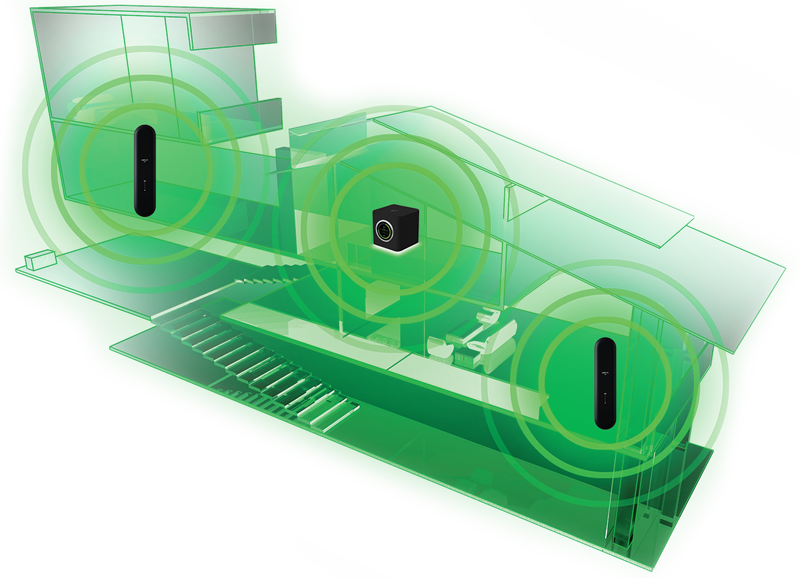 Best Performance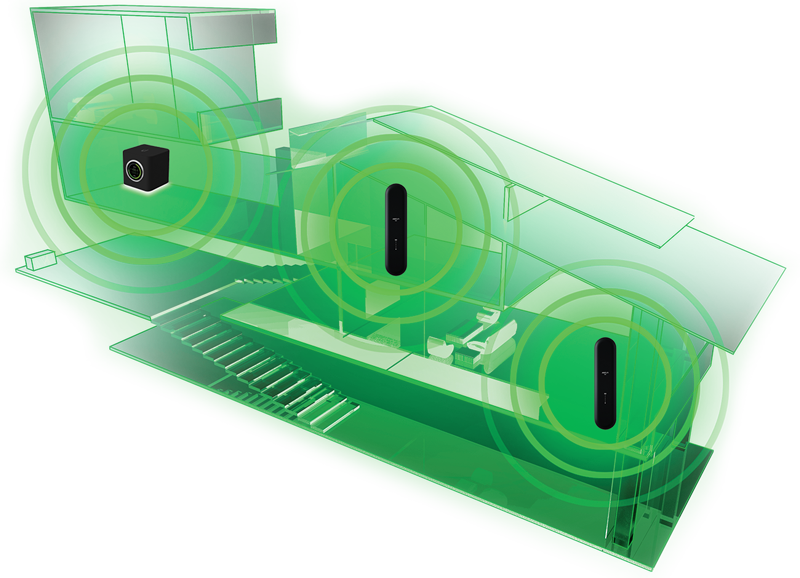 Mesh Multi-Hop

App Features
| | |
| --- | --- |
| | The system dashboard provides an overview of the AmpliFi Wi-Fi system including network status, number of connected clients, and active download/upload speeds. Tap devices to display/edit settings. |
| | Tap Start Test on the Performance screen to run a speed test that will provide your download speed, upload speed, and connection ping time. Swipe left on the throughput section to view additional data. A history of recent tests is displayed at the bottom. |
| | To provide guest access, determine the number of guests, select a time limit for their access, and tap Start. Guests simply connect to your wireless network named with the -guest label. No password is required. As guests connect, the number of users connected will be displayed in the app. Tap Stop at any time to turn off the guest network. |
| | The Family Profiles feature allows you to create profiles for family members, groups, or areas of your home. Assign devices to the profile, schedule quiet time (when internet is not accessible), and pause the internet at any time. |
| | The Diagnose option will check your WAN link, IP settings, internet connection, and MeshPoint status. |
Side Menu - 24/7 Live Chat Support
Tap

in the upper left of the app to access the side menu. Tap Live Support for 24/7 live chat support. Remote Access can also be enabled from this menu.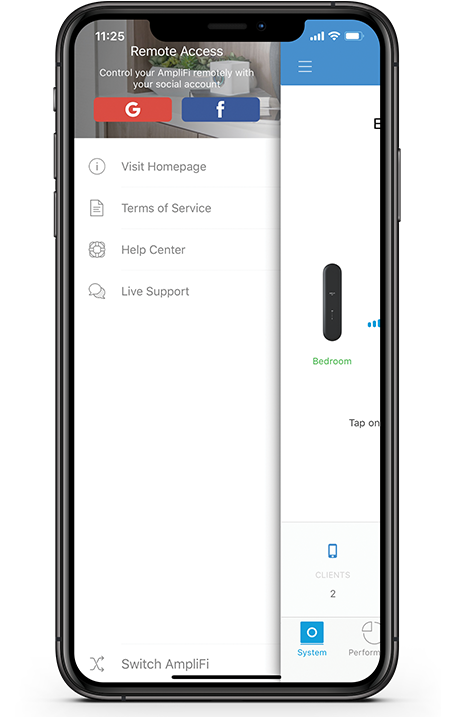 Resetting to Factory Defaults
If the AmpliFi Router administration password is lost, factory default settings can be restored.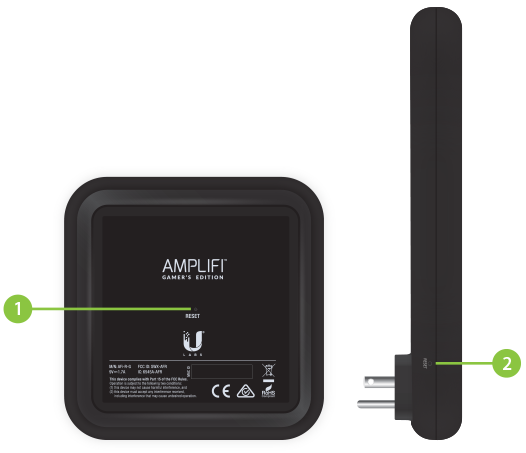 Router Reset
Use an object such as a straightened paper clip to press Reset located on the bottom of the AmpliFi Router for approximately 10 seconds until the LED turns off.

MeshPoint Reset
If the AmpliFi Router is reset, all MeshPoints should also be reset using the same method.
System Specifications
Max. TX Power

26 dBm

Radios

6

MIMO Chains

18

Speed

5.25 Gbps

Range

20,000 sq. ft

ESD/EMP Protection

± 24kV Air/Contact

Buttons

Reset

Antennas

(3) Dual-Band Antennas

Display

1.6" (40.6 mm) Diagonal, 240 x 240, 212 ppi,
G+F Touch, Full Color

Wi-Fi Standard

802.11ac

Power Save

Supported

Wireless Security

WPA2-PSK AES/TKIP

Operating Temperature

14 to 131° F (-10 to 55° C)

Operating Humidity

5 to 95% Noncondensing

Certifications

FCC / CE / IC
Supported Data Rates
| | |
| --- | --- |
| 802.11ac | 13 Mbps to 1300 Mbps (MCS0 - MCS9, VHT 20/40/80) |
| 802.11n | 6.5 Mbps to 450 Mbps (MCS0 - MCS23, HT 20/40) |
| 802.11a | 6, 9, 12, 18, 24, 36, 48, 54 Mbps |
| 802.11b | 1, 2, 5.5, 11 Mbps |
| 802.11g | 6, 9, 12, 18, 24, 36, 48, 54 Mbps |
Operating Frequency
US/CA

2412 - 2462

U-NII-1

5150 - 5250

U-NII-3

5725 - 5850

Worldwide

2412 - 2472
5150 - 5250